Product Description
This is a package offer which includes
The 6 Step Glow Step System - 6 x 6" or 15cm deep steps
Plus the Torklift Glow Guide Handrail
Plus The Torklift All Terrain Landing Gear.
Scissor steps or folding steps or stairs for all RV's - Truck Campers, Slide On Campers, Motorhomes, Travel Trailers, Caravans, Campers, Camper Trailers, 5th Wheelers
Plus many other uses
See the menu item Glow Steps for full details of the GlowStep range including fitting instructions and videos and a size and application guide.
NOTES
We ship these steps direct from our warehouse in the USA. Shipping takes approximately 2 weeks.
All shipping and import costs are included in the price. We are an Australian based Certified Torklift Distributor,
supplying support and assistance as required.
Installation Videos and instructions are included on this site, where applicable.
Overseas sellers often quote Torklift prices in United States currency and also the freight is often quoted in $US. Customs and GST is also payable upon entry to Australia so the price you end up paying is substantially more.
Our prices are in Australian Dollars, includes freight to your door and GST. We are a Torklift Distributor so we supply backup and support .
Torklift GlowStep

GlowStep Accessories Sold Separately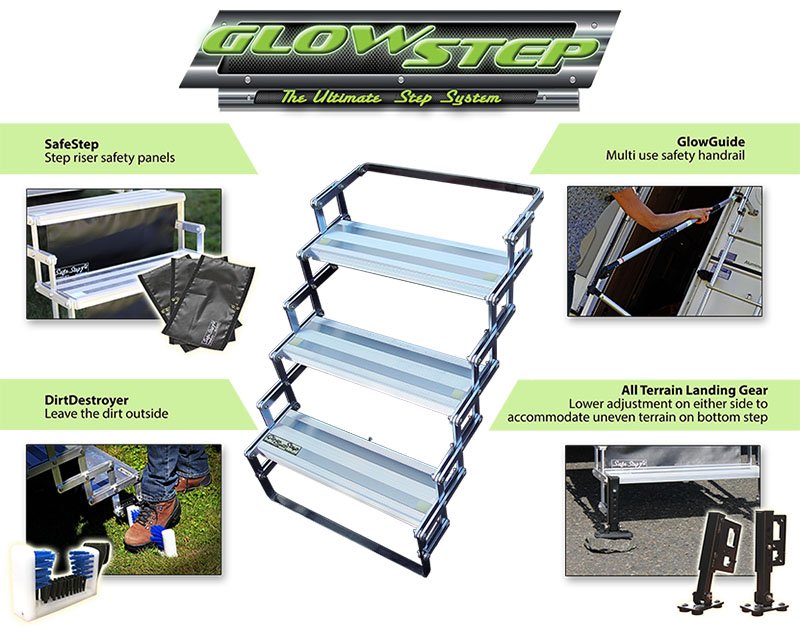 Installation Instructions and Video are downloadable from the main Torklift GlowStep Menu.
Custom Field
Product Reviews