Stow N' Go

GlowStep Stow N' Go slide on truck camper steps are specifically designed to be easily stowed and locked during transit. They eliminate the hassle of removing and storing steps everytime you travel. The Stow N' Go is the the best way to carry and store your steps, right where you want to use them. They come standard with storage bracket, GlowStep entry system and All Terrain Landing Gear to accommodate any type of terrain.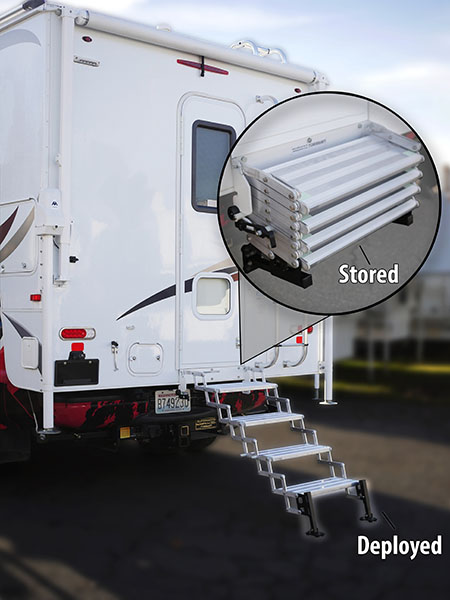 Easily folded up to the stored position the Stow N' Go steps remain mounted to the back of the slide on truck camper or bumper which helps prevent a dirty RV interior or the need to find a secure place to store your steps to avoid damage during transit. With this convenient step bracket, don't worry about unnecessary movement of the steps when in transit or driving on rough terrain. The special nylon retainer system of the Stow N' Go eliminate step movement – steps snap securely into place for storage. As an added bonus, you can also use the GlowStep Locks for theft prevention.
The Stow N' Go steps comes standard with the All Terrain Landing Gear and features adjustable feet that ensure solid placement on any type of terrain. This level of stability is simply unmatched. Can you imagine feeling that kind of step security wherever your slide on camper takes you? By embedding strong and steady step feet to the ground each time you deploy the camper steps, you can safely enter and exit the camper.
If you already own a set of the GlowSteps, you can choose to purchase just the Stow N' Go bracket to upgrade your camper steps. This Stow N' Go system is mounted to a truck camper bumper or to the back of a camper underneath the door. The Stow N' Go ranges in three to six steps and includes the ability to add or remove steps.

GLOWSTEP STOW N' GO VIDEO
GLOWSTEP STOW N' GO FEATURES
Avoid storing steps inside the RV and eliminate the hassle of detaching steps during transit

Prevents dirty RV interior and damage from step movement

Secures into place to prevent movement

Designed for easy "stow-and-go" step operation for truck campers – simply pull the handle to deploy and store truck camper steps

Mounts to the truck camper bumper or directly to the truck camper below the door — Requires a 23" x 3.5" mounting area

Prevent step movement during transit with the bolt-on stabilizing bracket plate features nylon studs – steps snap securely into place for storage

Steps are lockable with GlowStep Locks to prevent theft (sold separately)

To stabilize steps on uneven terrain, the Stow N' Go comes standard with the All Terrain Landing Gear adjustable feet.

Mounting Bracket available in white or black high impact powder coat for extreme durability to match the color of your camper

Ability to add or remove steps

Sold in applications for 3-6 steps

Steps glow in the dark for up to ten hours with only five minutes of light exposure – no batteries necessary

Steps are specially designed with SureGrip™ step tread which provides no-slip surface for easy entry and exit of camper

Accessories sold separately: GlowGuide Handrail, SafeStep pet safety barriers and DirtDestroyer shoe cleaning attachment

Legendary Lifetime Warranty

Proudly made in the USA
How many steps do you need?
Follow these simple steps to determine your fitment.
•Step 1: Load your camper in your truck bed so your measurement is accurate. If you measure your camper at a different height than intended use, your step measurement will be inaccurate.
•Step 2: Determine mounting location. You will need a flat mounting area of 3.5 inches tall and 23 inches wide underneath the truck camper doorway. The steps can also attach to the truck camper bumper.
•Step 3: Number of steps. Measure from the desired mounting location to the ground. Use the "Entry Height" measurement ranges on the chart below to find how many steps you need.
GlowStep Stow N' Go Specifications
Glow Step Stow N' Go

Step Dimensions

Mounting

Entry

Maximum

Part Number

Width x Depth

Bracket

Height

Weight

GlowStep Stow N' Go - 3 Step

50.8cm x 21.75cm

54.6cm

60cm to 78cm

170kg†

White Bracket

A7843

20" X 8.56"

21.5"

23.5" To 30.5"

375 Lbs†

Black Bracket

A7833

GlowStep Stow N' Go - 4 Step

50.8cm x 21.75cm

54.6cm

79cm to 97cm

170kg†

White Bracket

A7844

20" X 8.56"

21.5"

31" To 38"

375 Lbs†

Black Bracket

A7834

GlowStep Stow N' Go - 5 Step

50.8cm x 21.75cm

54.6cm

98cm to 117cm

147.5kg†

White Bracket

A7845

20" X 8.56"

21.5"

38.5" To 46"

325 Lbs†

Black Bracket

A7835

GlowStep Stow N' Go - 6 Step

50.8cm x 21.75cm

54.6cm

118cm to 137cm

147.5kg†

White Bracket

A7846

20" X 8.56"

21.5"

46.5" To 54"

325 Lbs†

Black Bracket

A7836
See the complete GlowStep Stow n' Go range