GlowSteps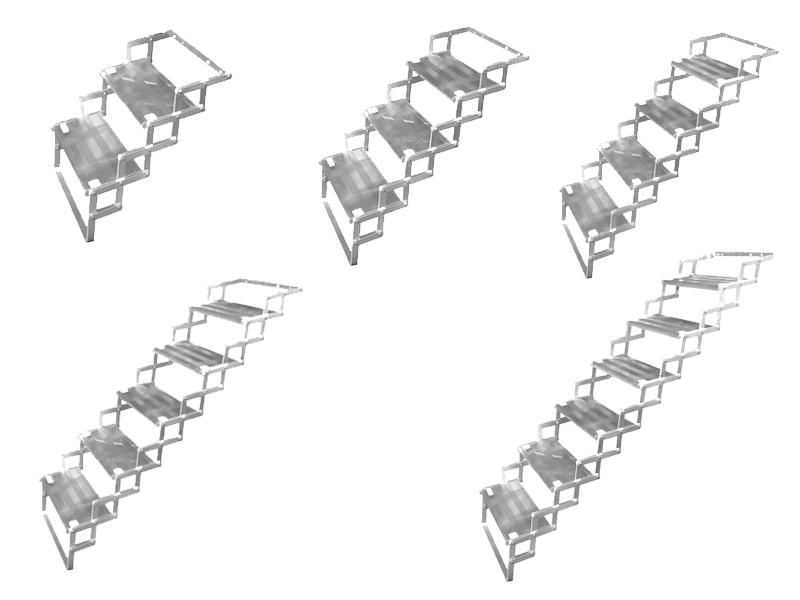 Achieve a safe and stable entry to your slide on truck camper or RV with the Original GlowStep system. These self-illuminating GlowSteps glow in the dark for up to 10 hours with just a few minutes of light exposure. No need to depend on battery power to light your entry steps.
GlowSteps are available ranging in size from three to six steps with the option to add or remove steps using the Add-a-step option. Composed of 100 percent aircraft grade aluminum and stainless steel, the rust-free steps have a unique SureGrip™ step tread to create an anti-slip surface. Engineered with a special hinge design, these steps deploy and retract with ease, yet are built to last.
The GlowSteps are extraordinarily sturdy by connecting the RV all the way to ground level. Just like a well-constructed permanent home feature, the level of stability is simply unmatched.
Design your GlowStep system to fit your needs. Accessories include the GlowGuide Handrail, SafeStep pet safety barriers and Dirt Destroyer shoe cleaning attachment. The GlowStep stores easily into position and is lockable to prevent theft. This lockable step system is also portable and has a Legendary Lifetime Warranty and is proudly made in the USA.
Known also as glow in the dark steps, scissor steps, folding steps or stairs and fold out steps or stairs, these steps are designed for most Rv's including slide on truck campers, (aka slide in truck campers, ute campers and tray campers), caravans and camper trailers, motor homes and 5th wheelers.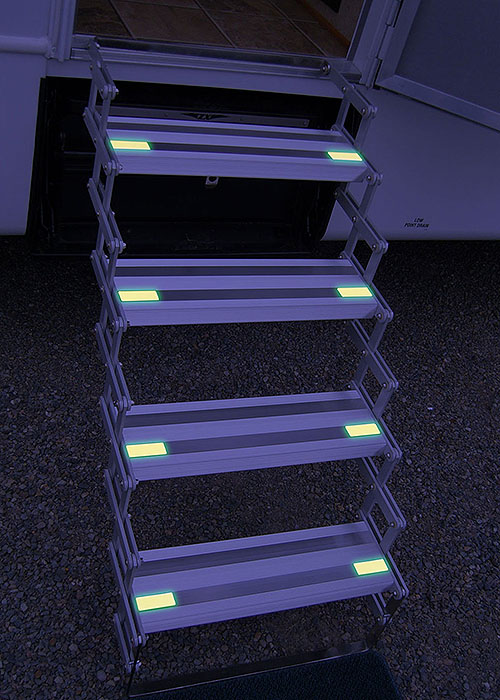 GlowStep Video
GlowStep Features
Self illuminating slide on truck camper steps glow in the dark for 10 hours with only five minutes of light exposure - no batteries

Safely enter and exit your truck camper or RV after dark

SureGrip™ step tread provides no-slip surface (not just grip tape)

Stores in position and lockable to prevent theft

100% aircraft grade aluminum and stainless steel

Stainless bolted hinges allow for easy step addition or removal

Exclusive: adjusts to basement model campers

Legendary Lifetime Warranty

Proudly made in the USA
Select the right GlowSteps for your RV or Camper using the GlowStep Application Guide
15cm (6") Deep GlowSteps - Each step 15cm x 50cm (6" x 20")

Glow Step

Mount. Bracket Height

Collapsed Height

Max Weight

Part No.

Add A Step


A7501

2 Step

19.5" 48.5cm

6"-7" 16.5cm

160kg

A7502

3 Step


27" 68.5cm

8"-9" 21.5cm

160kg

A7503

4 Step


34.5" 87.5cm

10"-11" 26.5cm

160kg

A7504

5 Step


42" 107.cm

12"-13" 31.5cm

135kg

A7505

6 Step


49.5" 126cm

14"-15" 37cm

135kg

A7506

20cm (8") Deep GlowSteps - Each step 20cm x 50cm (8" x 20")

Glow Step

Mount. Bracket Height

Collapsed Height

Max Weight

Part No.

Add A Step




A7801

2 Step

19.5" 48.5cm
6" - 7" 16.5cm
170kg
A7802
3 Step


27" 68.5cm

8" - 9" 21.5cm

170kg

A7803

4 Step

34.5" 87.5cm
10" - 11" 26.5cm
170kg
A7804
5 Step


42" 107cm

12" - 13" 31.5cm

150kg

A7805

6 Step

49.5" 126cm
14" - 15" 37cm
150kg
A7806

Footnotes:

With use of Torklift GlowGuide. Otherwise 2-4step MAX CAP 150kg / 5-6 MAX CAP 125kg

Each 2 - 6 step GlowStep Kit includes 1 Universal Surface Mounting Bracket
GlowStep Accessories