GlowStep Revolution

GlowStep Revolution

The GlowStep Revolution is the first and only step system designed for all RV towables that is versatile and flexible to adapt to any type of terrain.
The step entry system is revolutionary for several reasons. Featuring 7 inches of precision elevation adjustment, the GlowStep Revolution has 3 positions of upper adjustment between the RV entry and top step, plus an additional 5 positions of lower adjustment with the All Terrain Landing Gear adjustable feet. As the only step in the world that features this patented and unique level of adjustment at both the top and the bottom of the step system, this step allows all options for accommodating any terrain. The easy bolt-on installation fits into the factory step compartment, replacing factory steps. Since the steps are installed in the factory compartment, they remain conveniently outside the RV. Drawbridge style steps that fold up and store inside the unit fling and dump dirt, water, sand and other unwanted debris all over you and inside your RV. With GlowStep Revolution steps, avoid any unnecessary mess.
By connecting the RV to the ground (Earth to RV) the unstable and unsafe diving board feeling associated with factory steps is completely eliminated. With a locking mechanism and quick release lever, the step system for towables easily lowers and raises. In most cases the steps provide a significant improvement in ground clearance while traveling compared to a factory trailer step.

The multi-link hinge design steps accommodate any space constraint so it doesn't matter how close you park to structures, trees, service bays or inside of a storage facility. Steps can be easily extended in tight spaces unlike other step systems that require additional space for clearance. Instead of being blocked out of your RV by step ladders that store inside the entry way, access your RV any time – even if it's just to store some last-minute groceries while on your way to your camping destination.
Similar to the staircase found in your home, the GlowStep Revolution entry step system has the shortest riser height in the industry at only 7.5-inches. The self-illuminating steps also glow in the dark for up to 10 hours with no batteries needed – just five minutes of light exposure. Made from 100% rust-free aircraft grade aluminum and stainless steel, the trailer steps have SureGrip™ built-in tread that creates a no-slip surface. It is extraordinarily sturdy with a level of stability that is simply unmatched. The step's adjustable features are like planting roots each time you deploy the steps, giving you that feeling of security everywhere your RV takes you. With GlowStep Revolution, you know your family can safely enter your trailer or fifth wheel day or night, rain or shine and worry-free. Best of all, the steps are firmly planted so your unit no longer shakes back and forth with every entry and exit of pets or people.
To maximize a lifetime of smooth action and ease of use, the RV steps are assembled carefully by hand and adjusted to precise torque. The unique bushing bearing design is used on each side of every hinge point on the steps, preventing the step hinges from coming loose over time. The bushings act as a bearing surface that can handle significant tension without over-stiffening the step configuration, a common problem found on rusting factory steps. Due to these features, Torklift's GlowStep line of RV steps guarantee longevity, durability and quality.
Unlike other trailer entry steps, the GlowStep Revolution is truly a complete step system. The system is tailored to you with the options of adding the GlowGuide Handrail, SafeStep pet barriers and DirtDestroyer shoe cleaning attachment. Available ranging from two to six steps, steps can easily be added and removed so you can take the GlowStep Revolution step entry system with you when you trade in for your next RV. In contrast to steps that drill into the vinyl and wood of the RV's entry threshold, GlowStep Revolution steps are completely bolt-on. This avoids vulnerability to possible water damage from drilling holes, and upholds the value and integrity of your RV. With applications to fit industry standard measurements of 27.5" of 25.5" width step entry openings, use the GlowStep Revolution Spacer Kit or Vertical Stud Adapter bracket for installation on any trailer or fifth wheel.
GlowStep Revolution comes backed by our Legendary Lifetime Warranty and is proudly made in the USA
GLOWSTEP REVOLUTION PRINTABLE INSTRUCTIONS
GLOWSTEP REVOLUTION VIDEOS
RVers give their candid opinion of the new GlowStep Revolution

GlowStep Revolution Installation

How to use Torklift GlowStep Revolution trailer steps

Only step system with precision elevation control
GLOWSTEP REVOLUTION FEATURES
Only RV step system with 7 inches of vertical precision elevation adjustment

Unparalleled stability eliminating the unsafe diving board effect

Direct bolt-on installation easily replaces your factory step system

Earth to RV: Brings step to ground level (No more unsafe booster step)

Landing gear quickly levels on uneven terrain

Ground supported connection to RV - No more shaking as people or pets enter and exit

Similar to the staircase in your home, the 7.5-inch step riser height accommodates those with limited mobility

The multi-link hinge design easily extends to accommodate tight space constraints so it doesn't matter how close you park to structures, trees, service bays or inside of a storage facility

Step system accessories: Handrail, pet safety barriers and shoe cleaning attachment

Made from 100% lightweight aircraft grade aluminum and stainless steel (rust free)

Designed specifically for all RV towables

Bushing bearing bolted for maximum stability and longevity – also provides smooth operation when deploying or retracting steps to prevent binding and grinding common with factory steps

Locking mechanism secures steps for safe travel while improving ground clearance

SureGrip™ step tread eliminates jagged holes commonly found on factory steps

Self-illuminating steps glow in the dark for up to ten hours with only five minutes of light exposure - no batteries

Safely enter and exit your RV after dark

Sold in applications for 2-6 steps

Legendary Lifetime Warranty

Legacy step system: With the ability to add or remove steps, take the GlowStep Revolution with you when you trade in for your next RV

Proudly made in the USA
Factory Steps

GlowStep Revolution vs. Factory Steps

All Terrain Landing Gear reaches the ground (Earth to RV) -- No more diving board
Up to 375 lbs. weight capacity*

Ability to add/remove steps (2-6 steps)

System works with handrail that reaches the ground (Earth to RV)

System works with pet safety product -- no more hurt paws

System works with shoe cleaning attachment -- leave the dirt outside

All Terrain Landing Gear adjusts and levels for uneven terrain

Significantly improves ground clearance when stored

*GlowGuide Required
FIND YOUR PART NUMBER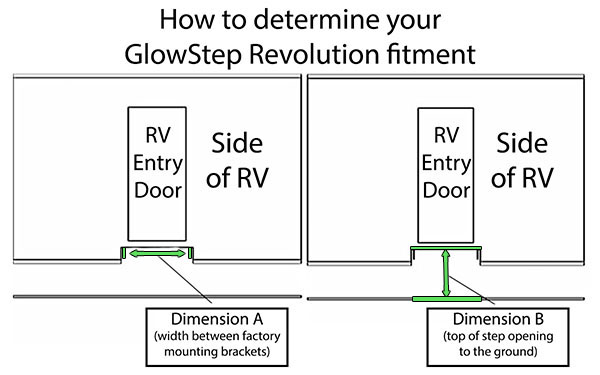 GLOWSTEP REVOLUTION SPACER KIT (PART NUMBER A8020)
Apply the GlowStep Revolution Spacer Kit to achieve installation of the GlowStep Revolution step system in applications where the width between factory mounting brackets on your towable is between or larger than the standard factory measurements of 27.5" or 25.5". The kit includes four ¼-inch thick steel spacer plates and longer hardware to ensure seamless installation, adjusting the factory bracket width to accurately fit the step mounting location.
GLOWSTEP REVOLUTION VERTICAL STUD ADAPTER BRACKET (PART NUMBER A8022)
The GlowStep Revolution Vertical Stud Adapter Bracket is made specifically for trailers without vertical brackets that extend out perpendicular from the trailers frame or "predrilled step frame outrigger mounting brackets " to install the GlowStep Revolution. The Vertical Stud Adapter Bracket is attached underneath your step opening allowing the GlowStep Revolution to bolt directly to the bracket.
GlowStep Revolution with 20cm x 56.5cm Steps (8" x 22.25")

Description / Part Number

Width between mounting brackets (A)

Height from top of step opening to ground (B)

Height from top of step opening to bottom of stored steps (C)

Weight Capacity

Notes

2 Step


Part: A8002
69.85cm 27.5"

47cm to 61cm

(18.5" to 24")

29.cm to 32cm

(11.5" To 12.5")

170kg

375lbs


†††

3 Step


Part: A8003

69.85cm 27.5"

65cm to 81cm

(25.5" To 32")

35cm to 37cm

(13.75" To 14.75")

170kg

375lbs




†††

4 Step


Part : A8004
69.85cm 27.5"

82cm to102cm

(32.5" to 40")

41cm to 43cm

(16" To 17")

170kg

375lbs




†††

5 Step


Part : A8005
69.85cm 27.5"

100cm to 122cm

(39.5" to 48")

46cm to 48cm

(18.25" To 19.25")

147kg

325lbs


†††

6 Step


Part : A8006
69.85cm 27.5"

118cm to 142cm

(46.5" To 56")

52cm to 54cm

(20.5" To 21.5")

147kg

325lbs

†††, *


2 Step


Part : A8102
64.75cm 25.5"

47cm to 61cm

(18.5" to 24")

29.cm to 32cm

(11.5" To 12.5")

170kg

375lbs

†††

3 Step


Part : A8103
64.75cm 25.5"

65cm to 81cm

(25.5" To 32")

35cm to 37cm

(13.75" To 14.75")

170kg

375lbs

†††

4 Step


Part : A8104
64.75cm 25.5"

82cm to102cm

(32.5" to 40")

41cm to 43cm

(16" To 17")

170kg

375lbs

†††

5 Step


Part : A8105
64.75cm 25.5"

100cm to 122cm

(39.5" to 48")

46cm to 48cm

(18.25" To 19.25")

147kg

325lbs

†††

6 Step


Part : A8106

64.75cm 25.5"

118cm to 142cm

(46.5" To 56")

52cm to 54cm

(20.5" To 21.5")

147kg

325lbs

†††, *

† Do not use Add-A-Step Kit to convert a six-step to a seven-step. Contact Torklift International for seven step options.

††† With use of Torklift GlowGuide. Otherwise 2-4step MAX CAP 158kg (350lbs) / 5-6 MAX CAP 136kg (300lbs).

Glow Step Revolution - See the full range here