Product Description
GlowGuide Handrail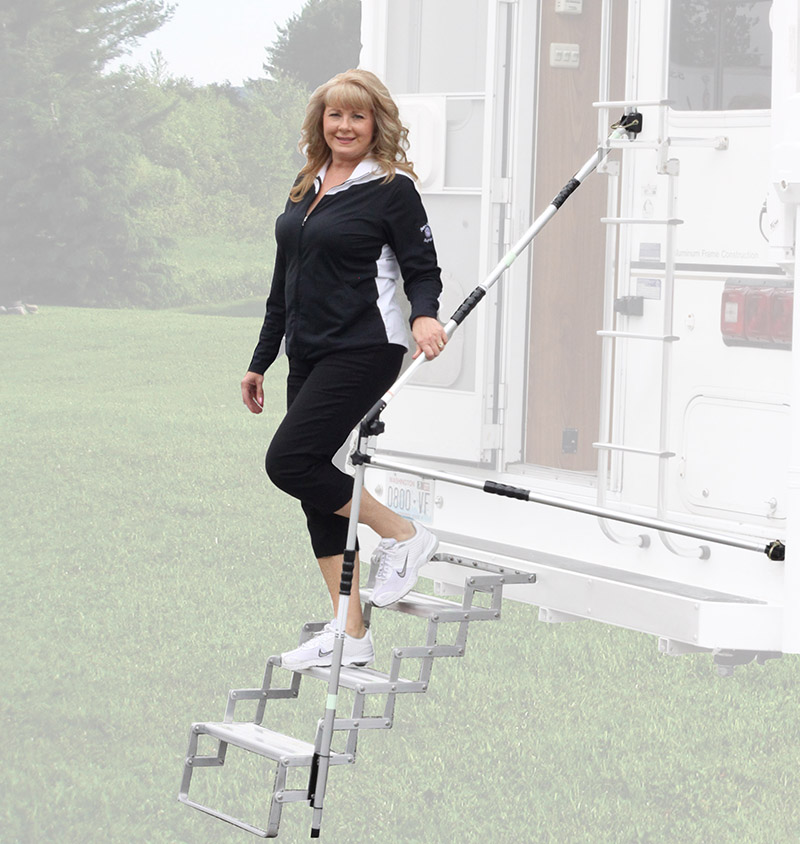 When used as a handrail the GlowGuide system is designed to dramatically enhance the safety of your RV step entry/exit system. The GlowGuide system is comprised of three telescopic arms, the upper door-mount arm, the lower step-mount arm and the strut arm. All three arms are telescopic and have the same length adjustability. When the installation is complete and the GlowGuide is in the "handrail use" position the configuration will be as follows:
The upper door mount GlowGuide arm will run up to the door entryway, the lower step mount arm will run down and attach to the step system, the strut arm will run diagonally and attach either to the bumper or the back of the RV (truck camper applications) or to the side of the RV/Trailer. Due to all three arms being telescopically adjustable, the mounting location at the doorway for the upper arm and the mounting location for the strut arm as well as the step mount are not specifically set and can be mounted within a range to best suit each particular installation application.
The GlowGuide handrail is designed to fold up and store "in place" on the side of the RV when not deployed as a handrail, or can be stored anywhere in the RV. A lock system to secure the GlowGuide to the outside of the RV is available and sold separately. A unique feature of the GlowGuide is its ability to quickly convert to a wash brush or broom and includes a detachable soft brush head
GlowGuide Handrail Features
Allows for safe entry and exit of RV

Ultra lightweight (44 ounces)

Glows for up to 10 hours

From in-use to storage in seconds

Handrail arms telescope from 32" to 53"

Locks to your RV

Doubles as wash brush

Scissor step not included

Limited Lifetime Warranty

Proudly made in the USA

Proudly Sold by Us!!
NOTES
These steps ship direct from our warehouse in the USA. Shipping takes approximately 2 weeks.
Price includes all shipping and import costs and GST. We are an Australian based Certified Torklift Distributor,
supplying support and assistance as required.
Installation Videos and instructions are included on this site, where applicable.
Overseas sellers often quote Torklift prices in United States currency and also the freight is often quoted in $US. Customs and GST is also payable upon entry to Australia so the price you end up paying is substantially more.
Our prices are in Australian Dollars, includes freight to your door and GST. We are a Torklift Distributor so we supply backup and support .
Custom Field
Product Reviews
easily mounted, simple effective product.

great added safety product for our glow steps,